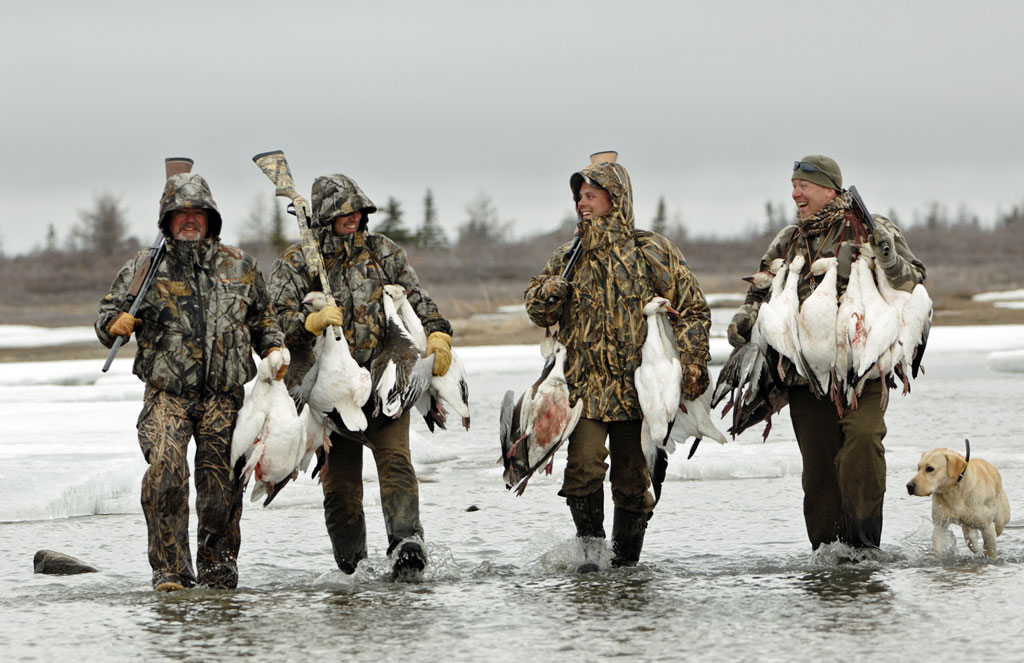 "Shooter's Paradise", "Target Rich Environment" and "Goose Hunter's Nirvana" are all terms used to describe a Goose Hunt with Webber's Lodges.  Four species, Canada's, Snows, Blues and Ross' all frequent northern Manitoba abundance. At times, the noise from the honking geese is overwhelming! Very few will ever get to experience a hunt like this, it may as well be you!
Spring Goose Season – Hunting Snows at the Source
Manitoba developed the Spring Snow Goose Season to address the population explosion. Here is your chance at contributing to conservation.  Nearly half of North America's Snow Geese are bred in the Hudson Bay Lowlands, making it one of the continents most important waterfowl breeding areas.  They show up in white waves in the hundreds of thousands, heading to their nesting grounds, which are not far from our goose hunting lodges.
With daily limits of 50 birds, and unlimited possession limits, the only thing stopping the action will be the amount of abuse your shoulder can take.  Hunting Spring Snow Goose (as well as Blue and Ross') on the snow patched tundra is a memorable adventure every serious waterfowl should experience.
Fall Goose & Duck Hunting
Our lodges are located on the West side of Hudson Bay, on one of the main North American flyways in the midst of staging grounds for the geese. Thousands of geese, including Canada's, Snows, Ross' and Blue's, stop and rest during their long migration South for the winter.  You will be among the first to hunt these birds and be in one of the few areas with the ability to limit out on the full selection of geese.
Our Lodges
Besides the fantastic Waterfowl hunting, our lodges at both Nanuk and Dymond Lake are at the top of the list when it comes to goose hunting accommodations!  Our 5-Star lodging has the cuisine to match, making these goose hunts among the most luxurious in North America! Be one of less than 50 hunters to take advantage of this unique, arctic adventure!
Hunters will be placed in natural blinds of willow, spruce and tamarack positioned near popular areas frequented by geese. Decoys will be expertly set by our guides.  Then, just sit back and enjoy the waterfowl hunting experience of a lifetime!