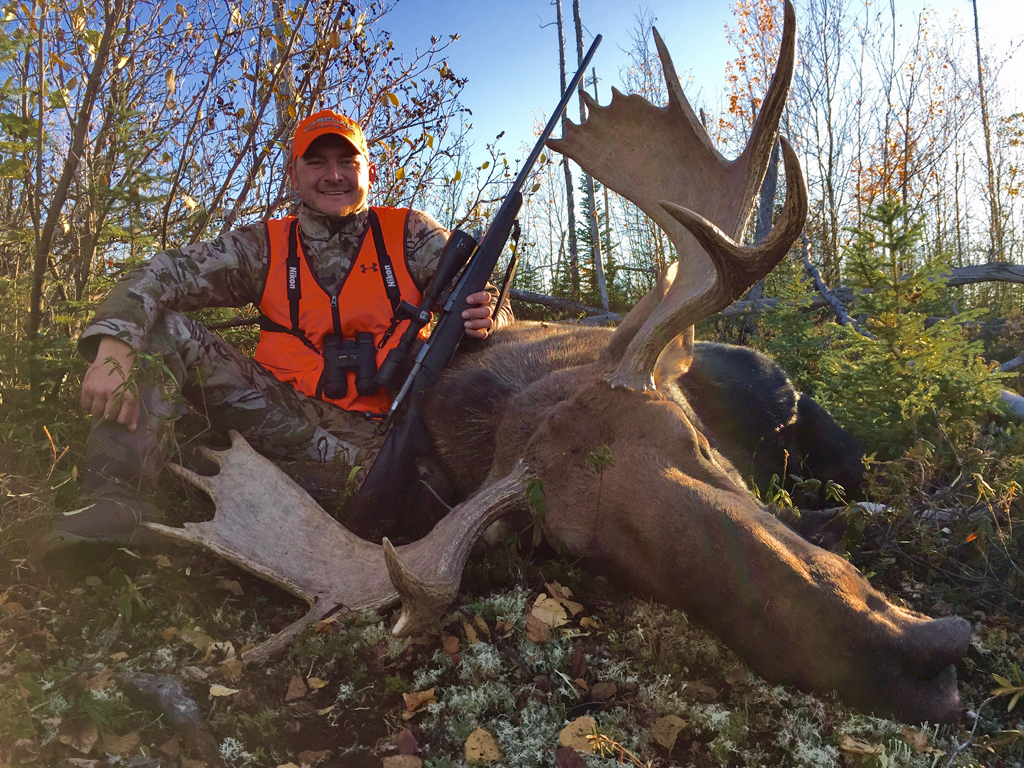 Because of the multiple opportunities we can provide hunters, many of our guests take advantage of combining adventures to create a multi-species hunt. This provides an efficient way to use the time and cost of travel to experience different hunts on the same expedition. Here are the most popular examples.
Caribou/Moose Combo
This adventure begins as a normal caribou hunt, with hunters arriving in Thompson the day prior to their departure date. The following day, guests will be flown into Caribou Camp for five FULL days of Caribou Hunting. On the regular departure day, instead of being brought back to Thompson, Combo Hunters will be relocated to Moose Camp. Here they will spend 6 FULL days of Moose Hunting. The day after Moose Hunting, they will be brought back to Thompson. This is a 14-day adventure, with 11 plus FULL days of hunting, in two separate camps.
Musk Ox/Caribou Combo
Since there are Caribou in the same area as the Musk Ox, this is a simple way to add on a second species to your fall Musk Ox hunting adventure!  Musk Ox will be the primary target, with Caribou available as an add on species. The option of adding on Caribou must be determined at time of booking as limited tags are available. Once your Musk Ox is down, Caribou will become the main focus.
Grizzly/Musk Ox Combo
For hunters wishing to add to an already exciting adventure, we can offer the opportunity to add a trophy Musk Ox to your Barren Ground Grizzly Bear hunt.
Wolf
Wolf can be added to any of our hunts. In Nunavut, anyone wanting to hunt Wolf must purchase a separate license. The decision to add Wolf to your hunt must be made at the time of booking. In most cases, Wolf will be an 'as encountered' hunt. Once the target species is taken, your hunt will be considered complete unless otherwise specified.
Dates and Rates
Caribou/Moose Hunt Combo
September 20-October 3, 2017
Only 8 available per year
$16,495 plus licenses and taxes
Caribou/Goose Hunt Combo
Please contact us directly for details on dates and pricing
Musk Ox/Caribou Hunt Combo
September 1-7 or September 7-13
Only 8 available per year
$14,500 plus tax
ALL PRICES IN USD OR EQUIVALENT
Once an animal is wounded, every effort will be made to recover that animal. Regardless of the outcome, the tag will be considered filled for that animal.
Payment Terms
Deposits of $4,000 per hunter are required. Bookings will not be considered complete until the deposit is received. Deposits may be made by check, credit card (Visa or MasterCard) or wire transfer.
Final payment is due 90 days prior to departure and can be paid by check, wire transfer or credit card (Visa or MasterCard) with a 3% fee.
Full payment must accompany any reservation made less than 90 days prior to departure.
Once final payment has been received, you will receive an information package regarding your trip details.
Send deposits to:
Webber's Lodges
PO Box 10
Ile des Chenes MB
R0A 0T0